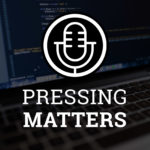 This week Jack and I talk about sharing code between projects.
I dive into a recent challenge of packaging up code to be reused across multiple sites, as mu-plugins but all managed by Composer.
Jack talks about his parent and child theme setup which is driving numerous sites he's working on at the moment.
This episode is sponsored by Made with Fuel – a WordPress web design micro-agency that specialises in designing and building websites using WordPress. Made with Fuel works with tiny, small, and medium sized businesses on websites, online shops, and membership sites. To discuss your project visit madewithfuel.com.
Links & Resources