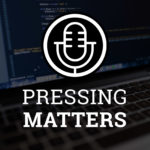 Welcome to Pressing Matters! A new WordPress podcast talking about what matters most to WordPress developers and WordPress business owners.
In our first ever episode we inevitably discuss the hot topic of the year, Gutenberg. Jack tries to stay balanced whilst Iain just about controls himself.
This episode is sponsored by Better Notifications for WordPress – a simple but powerful plugin that allows you to customise the email notifications that WordPress sends using a WYSIWYG editor and shortcodes. All of the default WordPress email notifications are available for you to customise as well as lots of new and useful ones. Find out more.
Links & Resources