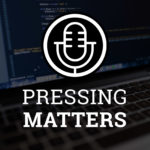 This week we welcome back Mark Wilkinson (from Highrise Digital who we interviewed previously) to talk about a recent frustration he had when trying to integrate his plugin with a client site which was built using the Timber framework.
Timber, Twig….. with #WordPress. Oh god why oh why 😱

— Mark Wilkinson (@wpmark) January 30, 2020
We discuss why developers use a framework like Timber, the pros and cons of doing so, are they compatible with plugins that have template files, and question if we should be considering long term maintainability of WordPress sites for clients, even if we aren't continuing to develop the site.
Links & Resources